Phosphate Solubilizing Bacteria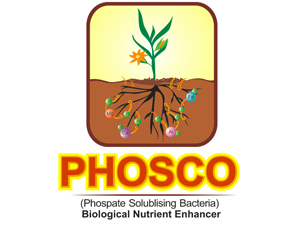 Phosphate Solubilizing Bacteria
Price And Quantity
Kilograms/Kilograms

225 INR
Product Specifications
Product Description
The fixation process of phosphorus is done through a chemical reaction that involves:
Adsorption of phosphate by insoluble forms of iron, aluminium and silicate minerals
Precipitation of phosphate by soluble forms of iron, aluminium and calcium
Some of the key details of our product are enumerated below:
Formulation:
It is formulated in a sterile environment and propagated onto a rich, organic base, which is of free flowing, light and moisture retaining nature. The micro-organism holds viability for a period of one-year giving a plate count of 109, i.e.; each gram will have millions of multipliable organisms.
Mode of action:
In order to solubilise insoluble / fixed form of phosphate, the help of microbes is a must. During their life cycles, various microorganisms, especially fungi and bacteria secrete diverse organic substances that are capable of solubilising insoluble phosphates. These substances possess the ability of lowering the ph of insoluble phosphates and thereby facilitate in converting them into soluble form. The diverse compounds/organic acids produced by these micro organisms include Fumaric, Tartaric and Maelic from chelates with calcium, aluminium and iron that result in the optimum solubilisation and utilisation of applied phosphates. Our Bio-fertilising product contains large number of microbes that hasten the solubilisation of bound phosphate/phosphorus in an effective manner.
Usage recommendations:
It can ideally be used on all types of cereals, pulses, vegetables, fruits, oilseeds, spices and plantation crops, especially those crops grown in ow phosphorus soils.
Seed treatment:
1 kg of Phosco is to be mixed with 500 ml water and this mixture has to be stirred well with a rod. Seeds that are to be sown in 1.0 acre of land are to be added to the above mixture and are thoroughly mixed. The inoculated seeds are to be air-dried by storing in a cool place and then sown immediately thereafter.
Transplants/Nurseries/Plotted plants:
The roots of crops like tomato, paddy, cabbage, vegetables and others are to be dipped in slurry of 1 kg Phosco mixed with 5 litre of water for a period of 5-10 minutes before transplanting.
Precaution:
Phosco is living bacteria and any application of chemical fungicide before and after its use in the plant area is to be avoided
In order to prevent it from drying, Phosco should be stored in a cool, dry & shaded place away from direct sunlight
Advantages of Phosco:
Boosts the available phosphorous and thereby, increases the yield by 10% to 15%
Cheaper than chemical fertilisers
No toxic/ poisonous residues in food or soil
Phosco facilitates optimum development of root system and accelerated plant growth
Trade Information
Cash in Advance (CID) Cash Advance (CA)

10000 Per Day
Within a certain price range free samples are available

Australia North America South America Eastern Europe Western Europe Middle East Central America Asia